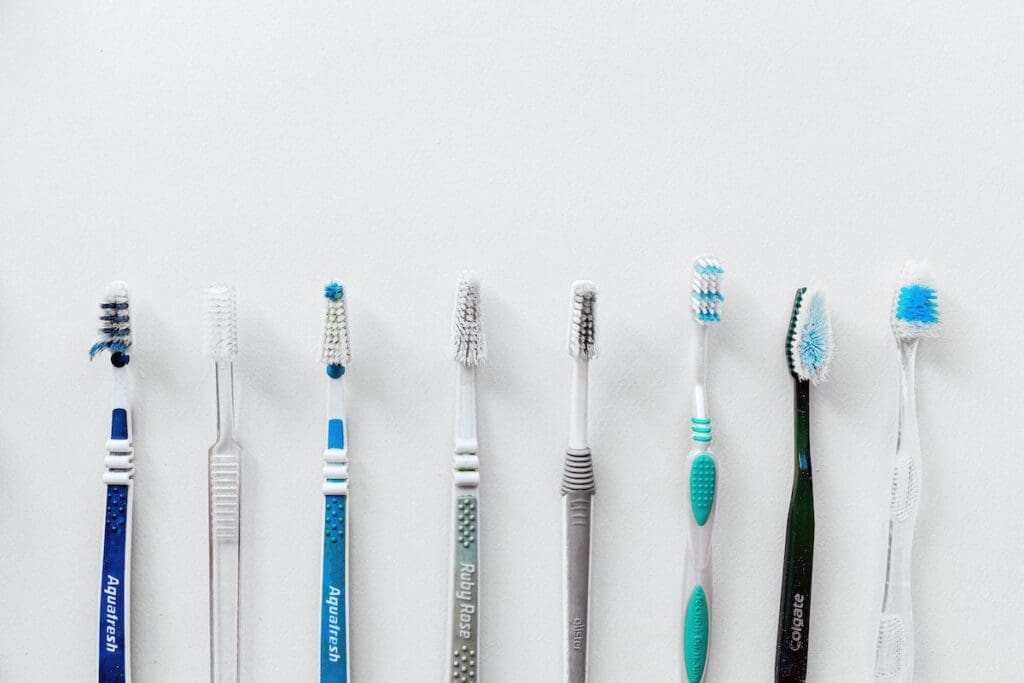 If you're like most people, you probably don't give much thought to your toothbrush. But did you know that there is a right way and a wrong way to buy a toothbrush? With so many different types of toothbrushes on the market, it can be hard to know which one is best for you. But by following these simple tips, you can be sure to find the perfect toothbrush for your needs.
1. Types of Toothbrushes
There are two main types of toothbrushes: manual and electric. Manual toothbrushes are the most common type and can be found in most stores. Electric toothbrushes are becoming more popular, but they can be more expensive. The main difference between them is how they clean your teeth. An electric brush can be more effective at removing plaque and bacteria and most usually have a 2 minute cycle setting which is most optimal for mouth health, but a manual brush can be just as effective if used correctly.
2. Choose the Right Bristles
The type of bristles on your toothbrush can make a big difference in how well it cleans your teeth. Soft bristles are best for people with sensitive gums, while firmer bristles are better for people with stronger gums. There are also medium-bristled toothbrushes, which are a good choice for most people. Dentists recommend that you replace your toothbrush every three months, or sooner if the bristles start to fray.
3. Head Size
The size of the toothbrush head is also important. A smaller head can be better for getting into hard-to-reach places, while a larger head can cover more ground more quickly.
4. Consider Your Budget
Toothbrushes range in price from a few dollars to over $100. It's important to consider your budget when choosing a toothbrush. If you're looking for a high-end model, you may want to consider an electric toothbrush. But if you're on a tight budget, a manual toothbrush will do the job just fine. They key is to brush regularly and to replace your toothbrush when it starts to show wear.
5. Consider Ergonomics
The way your toothbrush is designed can also make a difference in how well it works. Look for a toothbrush that fits comfortably in your hand and has a handle that is easy to grip. Standard toothbrushes have a slim handle, but there are options that provide a wider handle and/or gripping if that is what you want.
6. Read the Reviews
Before you buy a toothbrush, be sure to read the reviews. This will help you get an idea of which models are the best and which ones to avoid. Some reviewers might have similar wants or requirements in a toothbrush and you can use there review to narrow down your best potential options.
With so many different types of toothbrushes on the market, it's important to take the time to find one that is right for you. Here are some highly rated toothbrushes on Amazon to help get you started. By following these tips, you can be sure to find the perfect toothbrush for your smile.
---
Highly Rated Toothbrushes on Amazon: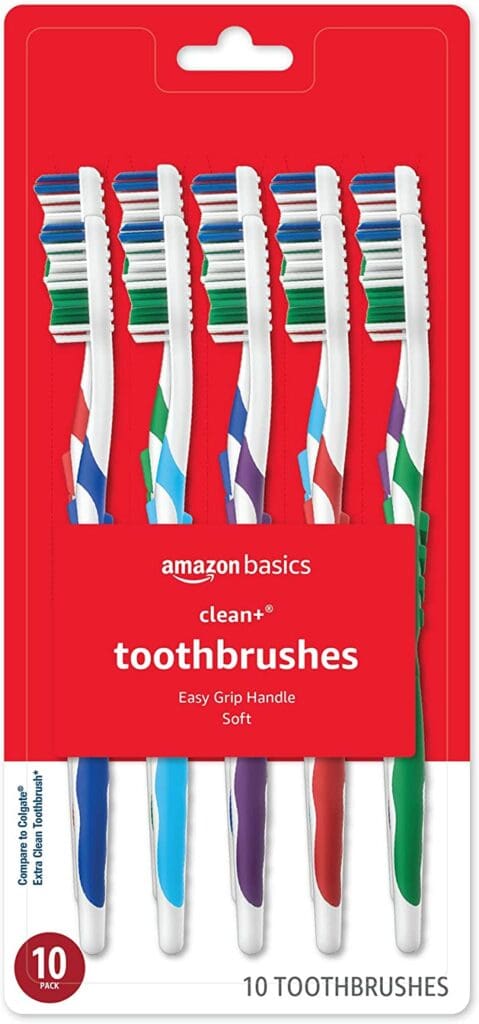 Amazon Basics Clean Plus Toothbrushes, Soft, Full, 10 Count, 1 Pack (Previously Solimo)
Includes 10 Amazon Basics Clean Plus Toothbrushes
Soft bristles; angled end-tuft to easily reach back teeth and deep between teeth
Textured tongue and cheek cleaner removes odor-causing bacteria
Easy grip handle designed for better control
Color combinations may vary
If you like Colgate Extra Clean Toothbrushes, we invite you to try Amazon Basics Clean Plus Toothbrushes
Alexa voice shopping enabled: to place your next order, just say, "Alexa, reorder Amazon Basics Clean Plus Toothbrushes"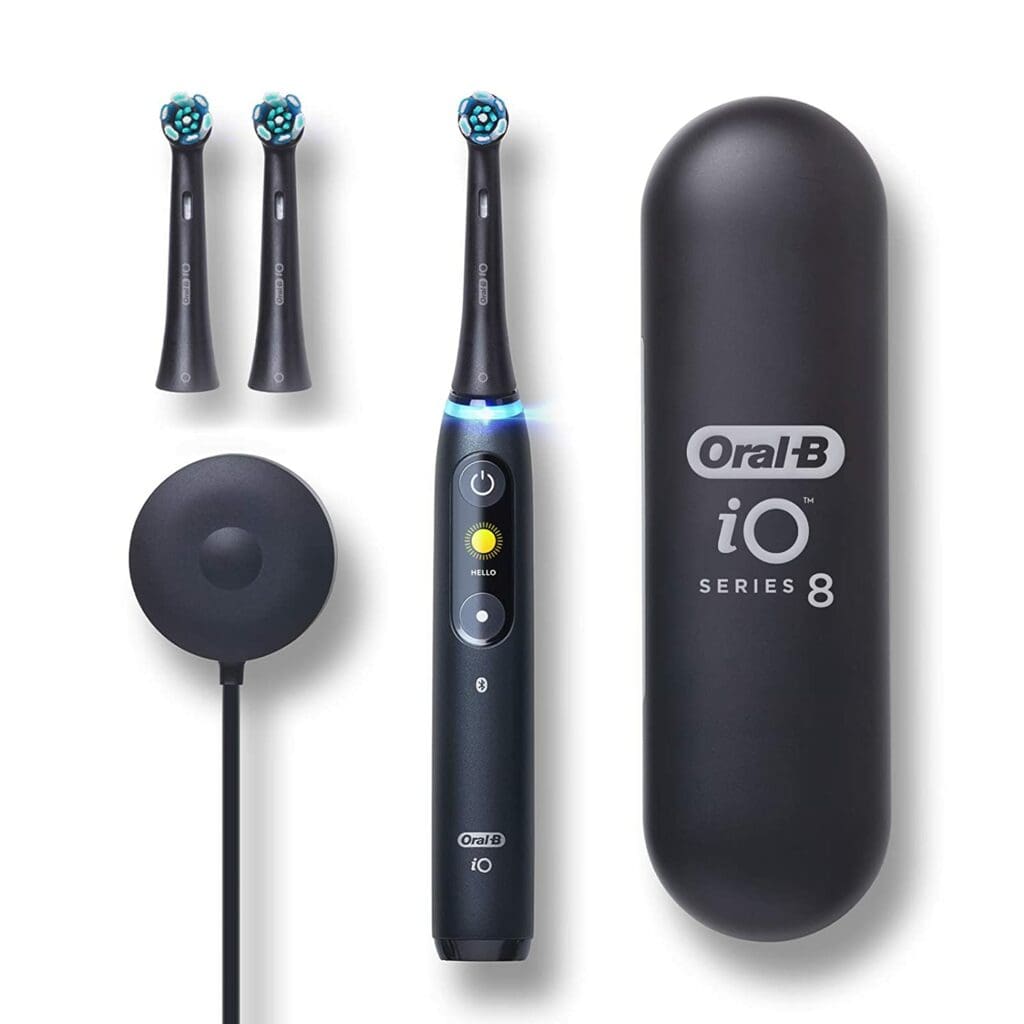 Oral-B iO Series 8 Electric Toothbrush with 2 Replacement Brush Heads, Black Onyx
COMPATIBLE ONLY WITH ORAL-B iO REFILL HEADS
You Will Receive 1 Oral-B iO Series 8 Black Onyx electric toothbrush, 2 Oral-B iO Ultimate Clean replacement brush heads, and a premium travel case
PERFECT PRESSURE: Signals red when brushing too hard and green when brushing just right
PERSONALIZED BRUSHING: Display screen helps motivate you and enables you to customize your brushing experience
SENSATIONAL CLEAN: Redesigned dentist-inspired round brush head with twisted bristles reach every contour for a deep clean
LIVE COACHING with VISIBLE TIMER: A.I. tracks where you are brushing and guides you to 100% coverage so you don't miss any zone, while the visible timer ensures you brush for the dentist-recommended 2 minutes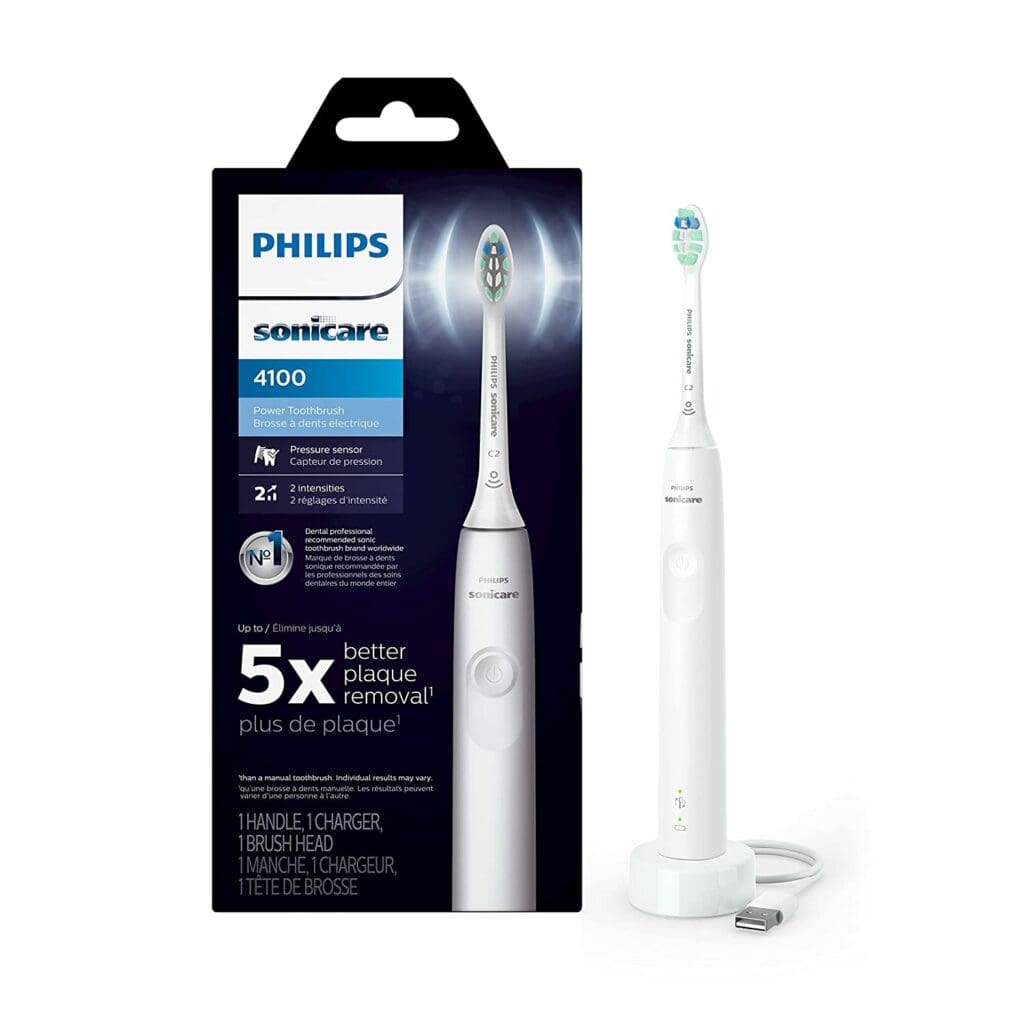 Philips Sonicare 4100 Power Toothbrush, Rechargeable Electric Toothbrush with Pressure Sensor, White HX3681/23
Removes up to 5x more plaque vs. a manual toothbrush*
Pressure sensor and two intensity settings protect sensitive gums from over brushing
2 minute SmarTimer with QuadPacer ensure Dentist-recommended brushing time
Brush head replacement reminder ensures your brush head is always effective
Long battery life with battery light indicator: One charge last for 2 weeks
Includes: 1 Philips Sonicare 4100 handle, 1 Optimal Plaque Control (C2) brush head, and 1 USB charger (wall adaptor not included)
*SRG, Test Report, CIPS918151 (2021)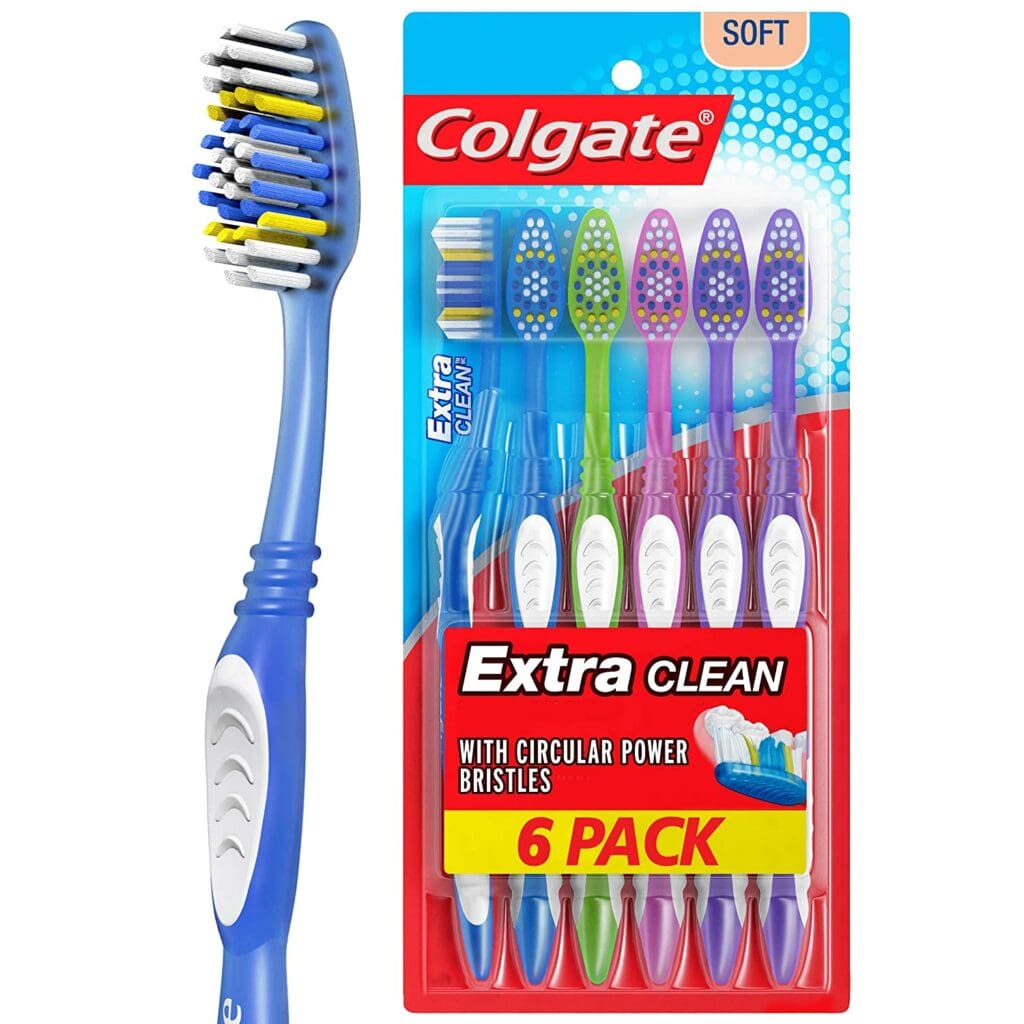 Colgate Extra Clean Toothbrush, Full Head, Soft 6 Count (Pack of 1)
Soft toothbrush features circular power bristles to help effectively clean teeth
Easy-to-grip handles to provide comfort and control while brushing.Fluoride free
Cleaning tip bristles to effectively reach and clean back teeth and between teeth
Helps remove tooth stains
Colors will vary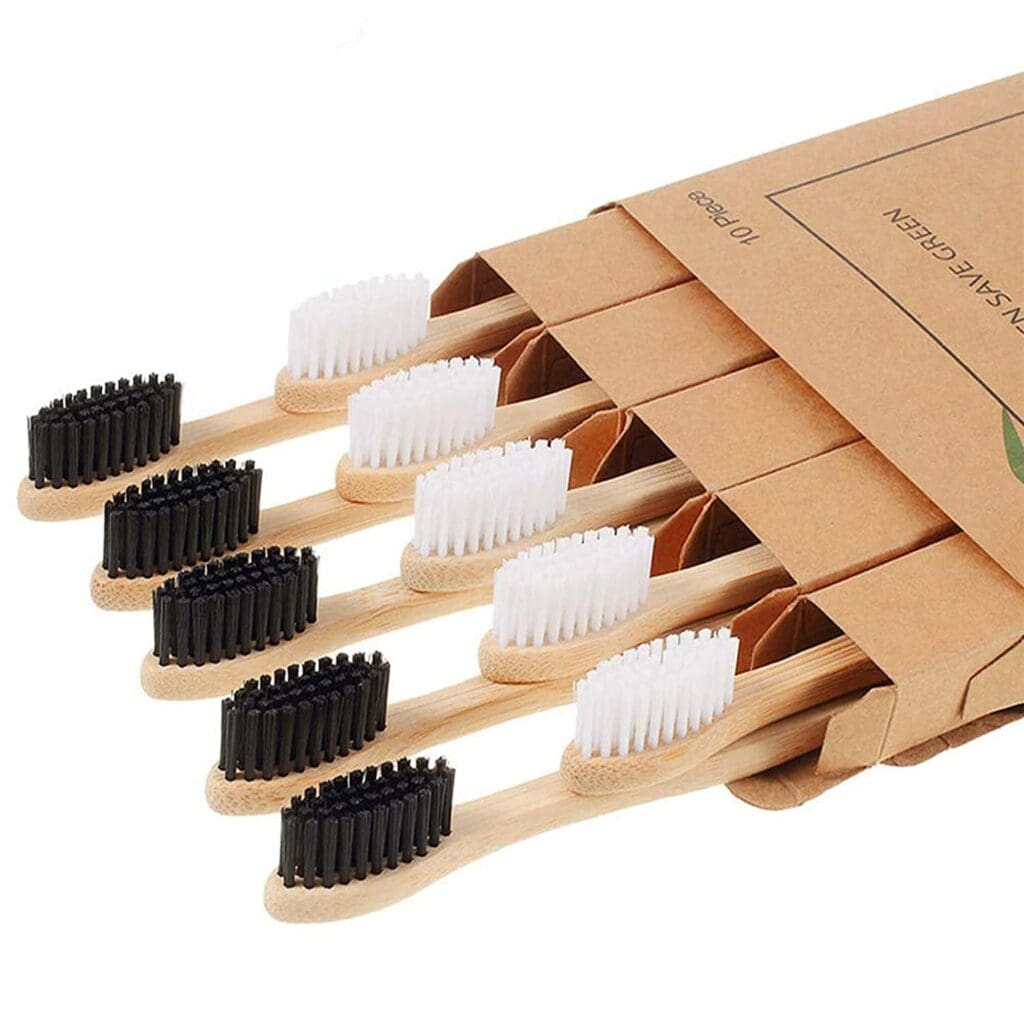 Nuduko Biodegradable Bamboo Toothbrushes, 10 Piece BPA Free Soft Bristles Toothbrushes, Natural, Eco-Friendly, Green and Compostable
[ECO FRIENDLY AND BIODEGRADABLE]: This bamboo toothbrush made from natural sustainable Bamboo farms, our product is 100% Natural! They are of better quality than your ordinary toothbrushes, and they are biodegradable and very environmentally friendly.
[SOFT BPA FREE BRISTLES]: The bristles are made from high-quality nylon which is soft, perfect for getting all the plaque off of your teeth. The organic toothbrush is soft on your teeth and gums,to ensure safe, delicate dental hygiene. It is recommended to put the bamboo toothbrush in a ventilated and dry environment.
[A PACK OF 10 TOOTHBRUSHES]: A pack of ten and each one is individually packaged in cardboard. Each bamboo toothbrush is marked with different marks A, B, C, D, E for easy distinction. It is very suitable for family member or travel.
[100% Recyclable Biodegradable Packaging]: The packaging of the natural toothbrushes are made in craft paper recyclable, no worry about it polluting the environment when you throw it away.
[Satisfaction Guarantee]: For whatever reason, if you are not satisfied with our bamboo toothbrush, just contact us through Amazon or return the product directly to get a full refund. We promise to provide every buyer who has bought this toothbrush, provide 180-day free unconditional return and refund service.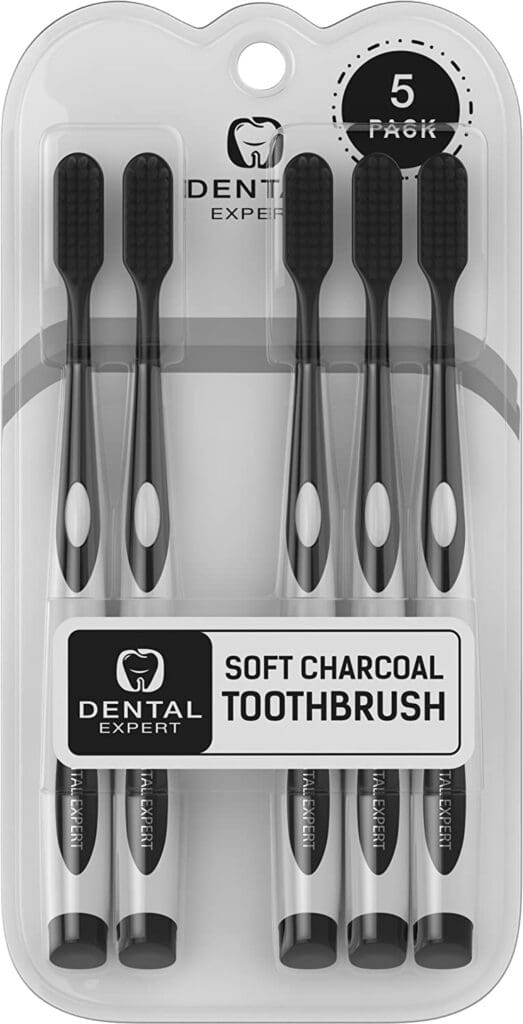 Dental Expert Charcoal Toothbrush [Gentle Soft] Slim Teeth Head Whitening Brush for Adults & Children [Family Pack] – Ultra Soft Medium Tip Bristles (Black)
Improved Design: Our new improved black toothbrush pack is designed to eliminate 99% of plaque with total convenience. Get the best for your oral health with the new Dental Expert Charcoal toothbrush that has angled bristles to sweep away all the plaque.
Power Tip Long and Soft Bristles: The long, soft, and effective bristles of our charcoal toothbrush are comfortable to use and it is a reliable product to use with regular or charcoal toothpaste.
Improve Gum Health: Our Oral B charcoal toothbrush is best to improve gum health, reduce gingivitis and restore optimal dental hygiene in just four weeks because it to design to easily access and properly clean all the parts of the mouth.
Premium Offer: Get maximum value with our super pack of 5 top quality Dental Expert black toothbrushes that you can use for up to 15 months at a bargain price or get 1 pack for the entire family.
Money-Back Guarantee: Don't forget to add these ultra-soft charcoal toothbrushes to your cart for your whole family. If for any reason you're not happy with our product, we will make it right and process a refund for you. Get your pack risk-free today with our premium money-back guarantee.